Members Only Exhibition Tour: "Kaiju vs Heroes" at JANM
Japanese American National Museum
100 North Central Avenue
Los Angeles, California, 90012
United States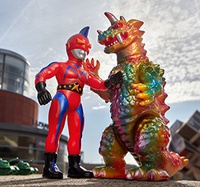 In California in the 1970s, Mark Nagata was living an all-American childhood when an aunt and uncle serving on a US military base in Japan sent him a box filled with colorful kaiju and hero toys. For Nagata, those toys and the artwork of their packaging inspired him to study art, to zealously collect vintage Japanese vinyl toys, and to become a toy designer himself.
Join Mark Nagata for a gallery tour during which he'll share more about his passion and his collection of toys. Limited to 25 participants.
RSVP by January 2 using the link below. You can also contact memberevents@janm.org or 213.830.5646.
Check janm.org for updates.

JANM . Last modified Dec 27, 2018 4:15 p.m.
---