Yasumasa Morimura, Ego Obscura
Japan Society
333 East 47th Street
New York, New York, 10017
United States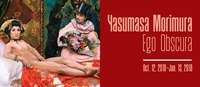 Yasumasa Morimura. Ego Obscura highlights Morimura's 30-year-long project of excavating "the self" from layers of art history, Japanese postwar history, and personal history.
In addition to major photographic self-portraits, for which Morimura transformed himself into iconic artistic and pop culture figures, the exhibition will also feature the U.S. premiere of the artist's first full-length video work, Egó Sympósion (2016) and his latest cinematic installation Egó Obscura (2018), in conjunction with a live performance, Morimura's Nippon Cha Cha Cha!, staged by the artist on the opening weekend.
For more information, please visit the event site here.

APA_Institute . Last modified Oct 11, 2018 12:15 p.m.
---