Obon Festival - Honohina Hongwanji
Honohina Hongwanji
32-896 Malamalahoa Highway
Ninole, Hawaii, 96773
United States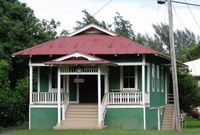 Come to Honohina Hongwanji's 2018 Obon Festival! Join the community of family and friends for a night of Japanese food, dance, and culture as we welcome back the spirits of the ancestors. Experience a blend of Japanese, Hawaiian, and American cultures unique to the islands!
Saturday, 8/25 - 7:00 p.m.; service: 6:00 p.m.
Phone: (808) 963-6032

daniyang8 . Last modified Jul 17, 2018 11:15 a.m.
---