Obon Festival - Pearl City Hongwanji
Pearl City Hongwanji Mission
858 2nd St
Pearl City, Hawaii, 96782
United States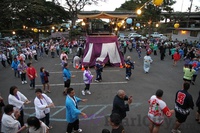 Come join Pearl City Hongwanji in its 2018 celebration of Obon, a meaningful time to remember our loved ones who have passed away before us, and time to reflect on our lives. Enjoy food, crafts, dancing, games, and more in this commemoration of Japanese traditions, religion, and heritage!

Pearl City Hongwanji is a Jodo Shinshu Buddhist Temple serving the Pearl City, Hawaii area since 1905. A family service is conducted at the Temple most Sundays at 8:30 a.m.
Friday, 8/10 - 7:00-10:00 p.m.
Saturday, 8/11 - 7:00-10:00 p.m.
Learn more about Pearl City Hongwanji

Phone: (808) 455-1680


daniyang8 . Last modified Jul 12, 2018 12:08 p.m.
---