Memorial for Hiroshima and Nagasaki Atomic Bombings
Japanese American National Museum
100 North Central Avenue
Los Angeles, California, 90012
United States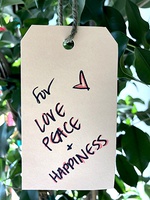 Admission on Saturday, August 4: Pay What You Wish
In commemoration of the World War II atomic bombings of Hiroshima and Nagasaki, which occurred on August 6 and 9, 1945, respectively, we will feature Yoko Ono's Imagine Peace Wish Tree. Participants can write down their personal wishes for peace on a piece of paper that they tie to the tree.
At the end of the commemoration, the wishes will be collected and mailed to the Imagine Peace Tower in Iceland, Ono's on-going art project, where wishes from around the world are collected and stored.
Sadako's Crane will also be on display near the Wish Tree during this period.
In conjunction with the exhibition Sadako's Crane
Please check JANM.org for updates.

JANM . Last modified Jul 18, 2018 2:42 p.m.
---