West Los Angeles Buddhist Temple Obon Festival
West Los Angeles Buddhist Temple
2003 Corinth Avenue
West Los Angeles, California, 90025
United States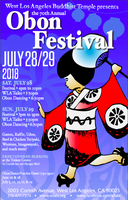 Obon Festivals happen during summer, and they celebrate life, death, and community. It is an important part of Japanese culture, and they typically include dancing, taiko, food, games, and much more. It is a great family event.
Saturday: 4-10 pm
Sunday: 3-9 pm
5:30 Taiko
6:30 Dancing
Please visit West Los Angeles Buddhist Temple's website for more information.

kmatsuno . Last modified Jun 26, 2018 12:16 p.m.
---