Obon Festival - Palolo Higashi Hongwanji
Palolo Hongwanji
1641 Palolo Ave
Honolulu, Hawaii, 96816
United States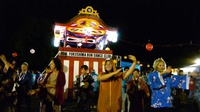 Come to the 2018 Palolo Higashi Hongwanji Obon Festival! Join the community in its celebration of Japanese tradition, ancestry, and culture by eating and dancing the night away!
No parking at the church; can use street parking or Sacred Hearts Academy parking (5:30-10:00 p.m., 3253 Waialae Ave) . Free shuttle between Sacred Hearts Academy and Palolo Hongwanji will be provided.
Friday, 7/27 - 6:30-9:30 p.m., service: 6:00 p.m.
Saturday, 7/28 - 6:30-9:30 p.m., service: 6:00 p.m.
Learn more at Palolo Hongwanji's facebook page
Phone: (808) 731-1491

daniyang8 . Last modified Jul 12, 2018 10:34 a.m.
---