Senshin Buddhist Temple Obon Festival
Senshin Buddhist Temple
1311 West 37th Street
Los Angeles, California, 90007
United States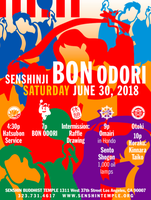 Obon Festivals happen during summer, and they celebrate life, death, and community. It is an important part of Japanese culture, and they typically include dancing, taiko, food, games, and much more. It is a great family event.
4:30 Hatsubon Serivce
7:00 Bon Odori (dancing) starts
9:00 Omairi in Hondo and Sento Shogon 1,000 oil lamps
10:00 Otoki Horaku: Kinnara Takio
Please visit Senshin Buddhist Temple website for more information.

kmatsuno . Last modified Jul 01, 2018 11:16 p.m.
---