Author Discussion—Life After Manzanar by Naomi Hirahara and Heather C. Lindquist
Japanese American National Museum
100 North Central Avenue
Los Angeles, California, 90012
United States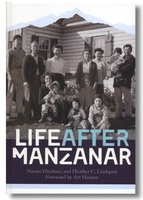 What happened to Japanese Americans when they were released from America's concentration camps like Manzanar after World War II ended? Life after Manzanarseeks to answer this question by shedding light on the "Resettlement"—the relatively unexamined postwar period when ordinary people of Japanese ancestry were finally released from custody.
Given $25 and a one-way bus ticket to make a new life, some ventured east to Denver, Chicago, and New York to start over, while others returned to Southern California only to face discrimination and an alarming scarcity of housing and jobs.
Co-writers Naomi Hirahara and Heather C. Lindquist will facilitate a discussion regarding different responses to the "resettlement."
Included with museum admission. RSVPs are recommended.
In the Tateuchi Democracy Forum
Available at the JANM Store.
Check janm.org for updates.

JANM . Last modified Jun 09, 2018 2:25 p.m.
---