Shamisen X Taiko!
Harbourfront Centre Theatre
231 Queen's Quay West
Toronto, Ontario, M5J 2G8
Canada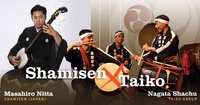 In their season finale, Canada's pre-eminent taiko group Nagata Shachu present Japanese music at its highest calibre, featuring a new collaboration with one of the world's best shamisen players, Japan's Masahiro Nitta.
Born in Sapporo, Japan in 1984, Masahiro Nitta – internationally renowned shamisen (three-stringed traditional Japanese instrument) master – has won numerous national performance competitions in Japan (the National Tsugaru Shamisen Kanagi Competition in Aomori in 2000 and 2001, and the 5th All-Japan Tsugaru Shamisen Contest in 2002), has played in festivals, concerts and toured all over the world (including the United States, South Korea, Vietnam, Thailand, the Philippines, Laos, Ireland, Russia and Saudi Arabia by invitation for the Janadoria Festival hosted by the king) and has released 11 albums.
Like Nagata Shachu, Nitta constantly seeks opportunities to reach beyond musical borders, and to make the shamisen accessible to the whole world; he has collaborated with musicians of other cultures, including American guitarist/composer Dean Magraw and multi award-winning Thailand saxophonist Sekpol Unsamran (Koh Mr. Saxman).
ARTIST QUOTE:
Taiko master and artistic director Kiyoshi Nagata states, "For our season finale concert, Nagata Shachu is honoured to be collaborating with one of the world's finest shamisen players, Masahiro Nitta. Nitta's virtuosity and lightning fast finger work will be on display both as a soloist, as well as in collaboration with our taiko ensemble."
TICKETS: Regular; $27. / $32. / $37. Student/Senior; $20.
Online; http://www.harbourfrontcentre.com/whatson/today.cfm?id=9658&festival_id=0.
Phone; 416-973-4000, press 1.
In person; Box office, 235 Queen's Quay West, Toronto, ON, M5J 2G8.
FACEBOOK EVENT: https://www.facebook.com/events/153119282185716/.
VIDEOS:
https://youtu.be/0zkE4Ghskeo.
MORE INFO: http://nagatashachu.com.
Nagata Shachu members performing in this concert are Kiyoshi Nagata (master soloist, taiko, shinobue/flute), Aki Takahashi (taiko, shamisen, vocals), Tony Nguyen (taiko), Jason Huang (taiko), Andrew Siu (taiko), and Naoya Kobayashi (taiko).
Nagata Shachu has toured extensively and played rare and unusual collaborations with artists including the Toronto Arts Foundation's Arts in the Parks initiative, world/roots ensemble DRUMHAND, Japan's acclaimed taiko, kokyu and shinobue virtuoso Shogo Yoshii (formerly of Kodo drummers), Juno nominated Toronto Tabla Ensemble and most recently the founding member and principal dancer of Japan's Kodo drummers, Chieko Kojima. Nagata Shachu has previously released six CDs of original music (latest; Hymus Road, 2013), and four DVDs (latest; Toronto Taiko Tales, 2017).
Kiyoshi Nagata is Canada's pre-eminent taiko soloist, whose career spans over three decades. His principal studies were with 'Kodo' in Japan and Daihachi Oguchi (artistic director of Suwa Daiko). In 1998, he founded Nagata Shachu. He also teaches at the University of Toronto's Faculty of Music and at the Royal Conservatory of Music.
ABOUT:
Since forming in 1998 and while rooted in the folk drumming traditions of Japan, Nagata Shachu's principal aim is to rejuvenate this ancient art form by producing innovative and exciting music (through concerts and workshops) that speaks to today's audience and creates a new voice for the Taiko. Taking its name from founder Kiyoshi Nagata and 'shachu' (old term for a performing troupe), Nagata Shachu has toured throughout Canada, the USA and Europe.


getthemessagepr . Last modified May 11, 2018 1:25 p.m.
---