Wagashi: Artistic Japanese Sweets
New York
333 East 47th Street
New York, New York, 10017
United States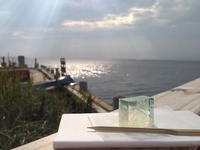 Delicate, artisanal confections, wagashi are traditionally served as an accompaniment to the tea ceremony. The shapes, colors and ingredients of these sweets are inspired by the natural world, often crafted to coordinate with the seasons. At this talk, wagashi confectioner Miyuki Hyodo, of miuxnyc, shares the cultural traditions surrounding these uniquely Japanese sweets, and introduces her contemporary approach that incorporates seasonal local ingredients. Hyodo will also give an on-stage demonstration of the elegant art of wagashi making. Followed by a tasting reception featuring early-summer wagashi.
Tickets: $20/$16 Japan Society members, seniors & students

japansociety . Last modified Mar 26, 2018 9:39 a.m.
---