Handmade Soba Noodle Workshop
Japanese Cultural and Community Center of Northern California
1840 Sutter Street
San Francisco, California, 94115
United States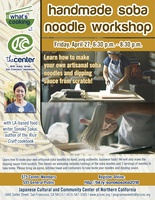 Cooking with Sonoko Sakai: Handmade Soba Noodles Workshop
Friday, April 27
6:30 p.m. – 8:30 p.m.
Instructor: Sonoko Sakai
LA-based food writer Sonoko Sakai returns to the Center to present an intimate lesson in crafting hand-milled artisanal soba noodles using the Nihachi style. Nihachi Style is an ancient blend of 80% buckwheat and 20% wheat flour. The workshop will teach participants how to knead, cut and cook the soba noodles as well as how to to make the dipping sauce from scratch. Participants will also make enough soba noodles to take two servings of noodles home. Please bring an apron, kitchen towel and containers to take home your noodles and dipping sauce.

HarukaR . Last modified Apr 15, 2018 9:53 a.m.
---