Ema Painting: The Year of the Dog
Japan Society
333 East 47th Street
New York, New York, 10017
United States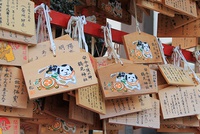 2018 is the Year of the Dog — get your New Year started out on the right "paw" at this ema making workshop. Ema, or votive wooden plaques, are offered at shrines in Japan to express one's prayers or gratitude. Originally depicting horses, which were seen as the sacred mounts of the gods, the subjects expanded over time to include a wide variety of pictures and designs. Join us to paint your own ema with this year's zodiac animal and inscribe your wishes for 2018 with Japanese calligraphy artist Seiren Aoi. All materials are included.
Tickets:$40/$35 Japan Society members, seniors & students
Event Page: https://www.japansociety.org/event/ema-painting-the-year-of-the-dog

japansociety . Last modified Nov 27, 2017 9:32 a.m.
---