Gift Wrapping with Tenugui, the Essential Japanese Cloth
Japan Society
333 East 47th Street
New York, New York, 10017
United States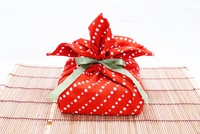 Just in time for the holiday season, join us to learn traditional tenugui gift wrapping with Ruri Kippenbrock, founder of tenuguiretailer Wuhao New York. Derived from the words te, or "hand," and nugui, meaning "wipe," these charming cotton cloths are more than mere hand towels. Sturdy, beautiful, versatile and reusable, tenugui lend themselves to decorative as well as practical purposes. In this workshop, learn tenugui wrapping techniques for a variety of shapes, including boxes, bottles and round objects.
Tenugui will be provided for all participants. Guests are encouraged to bring a small item that they would like to wrap.

japansociety . Last modified Oct 11, 2017 1:50 p.m.
---