How to Eat Like a Samurai
Japan Society
333 East 47th Street
New York, New York, 10017
United States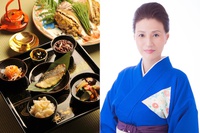 The samurai lifestyle was nourished by a simple, balanced diet that lent the warriors strength and agility on the battlefield. Mealtime was a time for replenishment and rejuvenation, centered around wholesome foods like lotus root, dried taro stems, wasabi, and shiso. Kanna Himiya, author of The Samurai Gourmet and a descendant of the chef of the powerful Maeda samurai clan from Ishikawa Prefecture, joins us to reveal the ancient recipes and eating habits of Japan's legendary military class. Moderated by Michael Romano, renowned chef and food ambassador of Ishikawa Prefecture.
TICKETS: $20/$16 Japan Society members, seniors & students
Website: http://www.japansociety.org/event/how-to-eat-like-a-samurai


japansociety . Last modified Aug 02, 2017 1:42 p.m.
---