Dancers Wanted | World Uchinaanchu (Okinawan) Day Celebration
Okinawa Association of America (OAA)
16500 South Western Avenue
Gardena, California, 90247
United States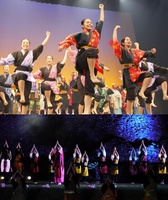 Attachments
DANCERS WANTED!
WORLD UCHINAANCHU DAY CELEBRATION
feat. special guest performers from Okinawa!
Learn a modern dance with elements of traditional Okinawan dance and karate! Middle, high school, and college students preferred, but not mandatory. Participants must commit to attending weekly practices (Saturdays/Sundays in Gardena) and performing October 26 at the Torrance Cultural Arts Center. A video recording of the performance will be screened at an official ceremony in Okinawa.
SIGN-UP REQUIRED:
oaamensore@gmail.com
310-532-1929
(Deadline: 9/29)

josephkamiya . Last modified Sep 15, 2017 12:58 p.m.
---