Obon Festival - Higashi Honganji Buddhist Temple
Higashi Honganji Buddhist Temple
505 East Third Street
Los Angeles, California, 90013
United States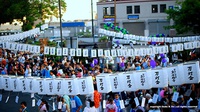 Come to the Higashi Honganji Buddhist Temple's annual obon festival! Obon is a traditional event to honor and express gratitude to the spirits of our ancestors, those before us who provided us with the gift of life. The Obon Festival is held as a celebration of the return of the spirits of our ancestors. The festival features food, games, farmers market, flower market, tea ceremony demonstrations, traditional Bon Odori Dancing, and various types of entertainment.
Parking will be available at the Medical Building on 3rd Street, across from the temple at 420 E. 3rd Street, LA 90013. The lot entrance is on Boyd Street. Higashi Honganji Obon visitors will receive a discounted maximum daily fee of $5.00, plus a complimentary Obon raffle ticket valued at $3.00. In order to receive your discount voucher and raffle ticket, please bring your stub to the Raffle Booth at the entrance to our Obon Festival.
Saturday, 07/29/17 - 1:00 p.m. to 9:00 p.m.; Odori: 6:30 p.m.
Sunday, 07/30/17 - 1:00 p.m. to 9:00 p.m.; Odori: 6:30 p.m.
Bon Odori Practice - Practice dates are Wednesdays and Fridays from 7:30 pm – 9:00 pm in the social hall.

daniyang8 . Last modified Jun 22, 2017 2:02 p.m.
---