20th Sao Paulo Festival of Japan
Rodovia dos Imigrantes, km 1,5
São Paulo, São Paulo
Brazil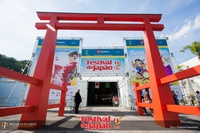 The 20th Sao Paulo Festival of Japan will be held on July 7, 8, and July 9, 2017, at the São Paulo Expo Exhibition & Convention Center in Sao Paulo, with the objective of preserving and disseminating Japanese culture and handing down traditions to the new generations, representing the 47 provinces that make up the country.
With the theme "20 Years of Integration, Harmony and Culture, including you!", the entire FESTIVAL OF JAPAN trajectory will be remembered from the simple beginning in the Marquise do Ibirapuera, to the present day, with a mega-event structure.
In the three days of the event, a public of about 150 thousand people is expected, with presentations of musical shows, cultural attractions, typical dances, traditional regional cuisine of the Japanese provinces, cultural exhibitions, workshops, tea ceremony, and free activities for the children, youth, adults and the elderly.
Date: 07, 08 and 09 July 2017
07/07/17 - Friday - 12 a.m. at 9 p.m.
08/07/17 - Saturday - 10 a.m. to 9 p.m.
09/07/17 - Sunday - 10 a.m. at 6 p.m.
Location: Sao Paulo Expo Exhibition & Convention Center
Rodovia dos Imigrantes, km 1,5, São Paulo
Tickets: R$ 22 (early and online), R$ 25 (box office on the day) and R$ 12 (half-ticket, ticket only at the box office)
On-site parking - R$ 45
Free transportation from the Jabaquara subway station from 8 a.m. to 10 p.m.

silvialumy . Last modified Jun 09, 2017 10:57 a.m.
---