Gardena Valley Japanese Cultural Institute Matsuri
Gardena Valley Japanese Cultural Institute
1964 West 162nd Street
Gardena, California, 90247
United States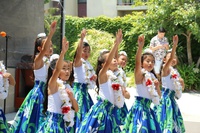 The Gardena Valley Japanese Cultural Institute has an annual fundraiser, a two-day matsuri held at the end of June every year. Beginning at noon on both Saturday and Sunday, the GVJCI Matsuri has much to offer by way of food, games, entertainment, and cultural demonstrations.
​Organizations and individuals who use the GVJCI facilities throughout the year support the GVJCI by running the game and food booths. The delicious food dishes include udon, somen, chicken and beef teriyaki, yakisoba, imagawayaki, chili hot dogs and rice, tamales, spam musubi, lau lau, shaved ice, and Okinawan andagi. In addition, supporting nurseries and produce businesses generously donate fresh vegetables, fruits, and beautiful plants for the produce market booth.
Saturday, 06/24/17 - 12:00 p.m. to 9:00 p.m.
Sunday, 06/25/17 - 12:00 p.m. to 7:00 p.m.


Learn more about Gardena Valley JCI

daniyang8 . Last modified Jun 22, 2017 11:30 a.m.
---