Garage Door Opener
Oxnard Buddhist Temple
250 South H Street
Oxnard, California, 93030
United States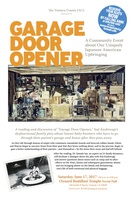 Please come to see Soji Kashiwagi's reading and discussion "Garage Door Opener"
on Saturday, June 17, 2017
1:30pm
Oxnard Buddhist Temple
250 South H Street, Oxnard
donation: $15
Email or call to make reservations NOW!!!
Synopsis: 2 adult siblings are standing in front of the garage of their deceased parents' home, afraid to open the garage door. It's full of kamaboko boards, rubber bands from broccoli, newspaper clippings… who knows what else….uncovering items from their past helps them to understand their parents AND themselves. Immediately after the reading, Dr. Satsuki Ina, therapist on JA dynamics, will take questions from you and discuss the Japanese American dysfunctional family. The reading is funny, sad, tragic, and strangely familiar! Do not miss out on this unique opportunity!

AnneMasako . Last modified Jun 13, 2017 2:38 p.m.
---