Sawtelle Stories Forum 14
New Center For Psychoanalysis
2014 Sawtelle Blvd.
Los Angeles, California, 90025
United States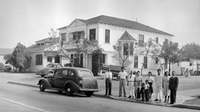 WESTSIDE NIKKEI RESETTLEMENT STORIES
Date/Time: Sunday, April 23, 2017, 2:00 PM – 4:00 PM
Location:
New Center For Psychoanalysis
2014 Sawtelle Blvd.
Los Angeles, CA 90025
(Parking in back of building – Enter from Beloit Ave.)
This forum will focus on stories about the resettlement of Westside Nikkei in Sawtelle, Venice and Santa Monica after World War II. Boarding houses, hostels, residences in pre, during, and postwar life are major scope of inquiry.
SPEAKERS

Arnold Maeda, Moderator, Long Time Westside Resident
Bobby Ideishi, Barrington/La Grange family days and some later personal experiences
Phyllis Murakawa, interesting postwar Westside resettlement days
Victor Naramura, early Sawtelle real estate enterprise by parents
Phyllis Hayashibara, Venice Japanese American Memorial Monument
Angie Behrns, Native American parents with Sawtelle nursery
Harry Nakada, early Sawtelle resident
And Others…
For more information, please contact us at http://sawtellejis.org/contact-us

sawtelle . Last modified Apr 18, 2017 8:40 a.m.
---