Sunday Family Corner
Nikkei National Museum & Cultural Centre
6688 Southoaks Crescent
Burnaby, British Columbia, V5E 4M7
Canada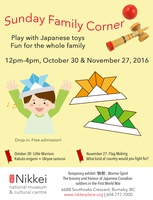 Free drop-in program for families, inspired by gallery exhibits and seasonal Japanese events. We provide Japanese traditional toys to play with as well as teach origami. Every month we introduce a special craft to create in relation to the gallery exhibits.
November's feature activity is creating your original Nobori – a Japanese banner flag.
Temporary exhibition in the gallery: 物部 : Warrior Spirit, the Bravery and Honour of Japanese Canadian soldiers in the First World War

NNMCC . Last modified Oct 11, 2016 12:08 p.m.
---