Peace through Floral Expression Exhibition
Japan Society
333 East 47th Street
New York, New York, 10017
United States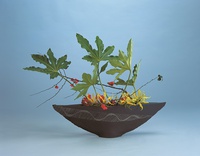 Sat., Oct. 15
Ribbon-cutting: 10:30 AM
Open to Public: 10:30 AM—3:30 PM
Sun., Oct. 16
Open to Public: 11 AM—4:30 PM
With a history spanning more than 550 years, Ikenobo ikebana continues to inspire the world with masterpieces of floral design. Join us for this unique opportunity to view a wide variety of stunning ikebana arrangements by Headmaster Sen'ei Ikenobo and other Ikenobo masters.
Free admission.

japansociety . Last modified Aug 22, 2016 8:59 a.m.
---