Through Her Lens - panel discussion with Nikkei female artists & scholars
Nikkei National Museum & Cultural Centre
6688 Southoaks Crescent
Burnaby, British Columbia, V5E 4M7
Canada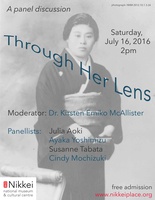 Events Hall
Admission free; refreshments will be served after the panel
Inspired by the Nikkei National Museum's current exhibit, Arrival: Japanese Canadian Picture Brides by Chino Otsuka, we invite local Nikkei female artists & scholars to discuss the topic of historical storytelling through their respective specialties.
Moderator: Dr. Kirsten McAllister, Associate Professor, School of Communication, SFU
Panellists:
Julia Aoki + Ayaka Yoshimizu – Ph. D. candidates, School of Communication, SFU
Susanne Tabata – Creative Producer, Documentary, Short-form and Online Media
Cindy Mochizuki – Inter-disciplinary artist

NNMCC . Last modified Jun 30, 2016 11:35 a.m.
---