Takao Tanabe - Sumie: Ink Brush Paintings Exhibit
Nikkei National Museum & Cultural Centre
6688 Southoaks Crescent
Burnaby, British Columbia, V5E 4M7
Canada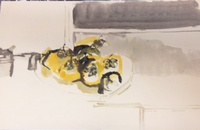 Sumie is often translated as brush painting, ink wash painting, or Japanese ink painting. In 1959, in part funded by a Canada Council artist grant, Canadian born painter Takao Tanabe visited Japan for the very first time. For two years he studied with sumie and calligraphy masters in Tokyo. Although celebrated across Canada for his seminal landscapes with low horizons, primarily focusing on the west coast of Canada, Tanabe's sumie paintings display a confident delicacy of technique, exploring both traditional Japanese subject matter and abstraction. We are honoured to showcase over 35 works by this accomplished artist. A publication will accompany the exhibition.
Join us for special events during the exhibit. All programs are free and open to the public.
Saturday, February 13, 2016, 3-5pm
Opening reception with artist in attendance
Saturday, February 27, 2016, 2-4pm
Calligraphy workshop
Saturday, April 16, 2pm (during free Celebrate Spring event at the cultural centre)
Curator's gallery tour
Saturday, April 30, 2-4pm
Sumie workshop
For more information, visit nikkeiplace.org


NNMCC . Last modified Jan 26, 2016 3:39 p.m.
---