2ND ANNUAL IMAGINE LITTLE TOKYO SHORT STORY CONTEST WINNERS ANNOUNCED
Little Tokyo
Los Angeles, California
United States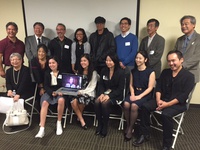 From Hokkaido to Iowa, Winners Come from Diverse Locations
The Little Tokyo Historical Society recently announced the winners of its second annual Imagine Little Tokyo short story contest: English-language category, Nathaniel Campbell of Fairfield, Iowa ("Fish Market in Little Tokyo"); Japanese-language category, Miyuki Sato of Hokkaido, Japan "Mitate Club"; and youth category, Linda Toch, Corona, California ("Kazuo Alone").
Winners were announced at a public reception earlier this year at the Japanese American Cultural and Community Center in Los Angeles. Campbell and Sato, who were both Skyped into the reception, each received $600, while Toch was awarded $400. All three stories will be published in The Rafu Shimpo , while also being digitally posted with other finalists on the Japanese American National Museum's Discover Nikkei (www.discovernikkei.org) and Little Tokyo Historical Society's website (littletokyohs.org).
"We are impressed with all the finalists' creative endeavors," said Bill Watanabe, head of the Imagine Little Tokyo committee. "To use their imaginations to ground our beloved Little Tokyo makes this place even more current and relevant. And the addition of youth and Japanese-language categories further expands the scope of our mission."
The following served as final judges: adult English-language, Chris Komai, Todd Shimoda and Tritia Toyota; youth, Kristin Fukushima, Traci Akemi Kato-kiriyama and Amy Uyematsu; and Japanese-language, Yukikazu Nagashima , Eijiro Ozaki and Sunny Seki.
Other finalists were the following:
English-Language, Adult
Second Place: Jerome Stueart, Vandalia, OH – "For a Look at New Worlds"
Honorable Mention: Kent Morizawa, Glendale, CA – "The Tempura King"
Avril Adams, Los Angeles, CA – "The Last Movie House"
Erica Birrell, Los Gatos, CA – "The Distant Moon"
Don Fenton, Dallas, TX – "All Along This Road"
Swan Gray, Greenbelt, MD – "Under the Sakura Trees"
Ruben Guevara, Los Angeles, CA – "Masao and the Bronze Nightingale"
Janice Morrill, Dallas, TX – "Floating Home"
Dan Akira Nishimura, Van Nuys, CA – "We've Only Just Begun"
Kiyoshi Parker, Los Angeles, CA – "Alice and the Bear"
Chester Sakamoto, Winnetka, CA – "Both Alike in Dignity"
Hans Weidman, Los Angeles, CA – "Queen of Manzanar"
Japanese-Language, Adult
Second Place: Michie Wakabayashi, Boyle Heights, CA – "Man in the Hotel"
Yuriko Kondo, Thousand Oaks, CA – "Little Tokyo Juggler"
Youth
Second Place: Madeline Parga, Simi Valley, CA – "Noboru"
Sarena Kuhn, Los Alamitos, CA – "Midori's Magic"
Each finalist received a commendation from Robert Park who represented California State Assemblymember Miguel Santiago, an Imagine Little Tokyo certificate designed by Kimsun Vong and gift certificates from Mr. Ramen and Toshi Sushi.
Little Tokyo Historical Society: http://www.littletokyohs.org/short-story-contest-2015.html

lthistory . Last modified Jun 03, 2015 5:29 p.m.
---