Mottainai: Think Green!
Gardena Valley JCI
1964 W 162nd St
Gardena, California, 90247
United States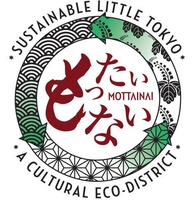 Attachments
No matter where you live in Southern California, it's important to be frugal and to be "green." The Gardena Valley Japanese Cultural Institute (GVJCI) will host Little Tokyo Service Center (LTSC) and Sustainable Little Tokyo— in conjunction with "Energy Upgrade CA"—to present various energy saving tips and culturally sensitive ways to waste less and make your life and your surroundings more "green."
Bonus: Learn how to wrap various items with a reusable furoshiki in a fun do-it-yourself workshop.
This presentation will take place at the GVJCI in the GVJCI Nisei Veterans Hall on Saturday, May 9th at 2:00 PM. The address is 1964 W 162nd St, Gardena, CA 90247. This is free workshop, but pre-registration is requested. Please call the LTSC for pre-registering at (213) 473-3035. For more information, please call the GVJCI office at (310) 324-6611 or email info@jci-gardena.org.

GVJCI . Last modified May 05, 2015 12:58 p.m.
---