Higashi Zumba Class
Higashi Temple
505 E Third St.
Los Angeles, California, 90013
United States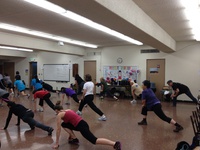 Join us every Tuesday & Friday for 1 hour of Zumba! Great class if you're looking for a good cardio workout, 60 minutes of fun Latin aerobics, dance and exercise! This class has been in Little Tokyo since 2011 and we would LOVE for you to join us!
Tuesdays 7:30 - 8:30 pm
Fridays 6:30 - 7:30 pm
Instructors Nelly Martin & Azucena Castellanos
Class Fee $10 first visit & then $5 going forward
Free Parking, Water & Amazing WORKOUT!
Check us out...bring a friend & receive a FREE class pass!
Hope to see you there!


sharilynnjung . Last modified Jan 07, 2015 4:23 p.m.
---