Book Signing: MY HOMETOWN, MY FURUSATO by Chuck Tasaka
Nikkei National Museum & Cultural Centre
6688 Southoaks Cres.
Burnaby, British Columbia, V5E4M7
Canada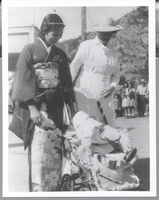 Chuck Tasaka, author of the popular Hanatarebozu: Runny Nosed Brats of Greenwood, launches his newest book exploring a family history of Greenwood-Midway.
Tasaka narrates the trials and tribulations of families who settled in Greenwood – Midway, originally as pioneers in the late 1800's and then some forcibly during internment in the wake of WWII. The author presents everyday people and their struggles, revealing a cross-section of families involved in industries ranging from ranching, to sawmills, smelters, and small enterprises.


NNMCC . Last modified Jun 18, 2014 3:09 p.m.
---