Japanese Tea Ceremony Demonstration
Japanese American National Museum
100 North Central Avenue
Los Angeles, California, 90012
United States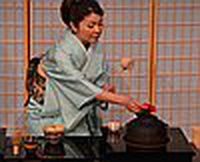 FREE!
Saturday–Sunday, August 16–17
The Japanese tea ceremony is called chanoyu or sado in Japanese. It is a choreographed ritual of preparing and serving Japanese green tea (called matcha ) together with traditional Japanese sweets to balance with the bitter taste of the tea.
Space is limited to the first 180 guests and will be by first come, first served basis only. No RSVPs will be taken for this event.
Check back for more details.
For more up-to-date information about this event and others, please visit the Japanese American National Museum's webpage: http://www.janm.org/events/2014/08/#16


JANM . Last modified Jul 26, 2014 12:17 p.m.
---