Tanabata Festival
Nikkei National Museum & Cultural Centre
6688 Southoaks Cres
Burnaby, British Columbia, V5E 4M7
Canada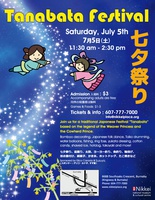 Family fun event!
Admission: $3
Accompanying Adults are free.
Games & Foods: $1-3
Tanabata is a traditional Japanese holiday based on the legend of the Weaver Princess and the Cowherd Prince. At Nikkei Centre's Tanabata Festival, write YOUR summer wish on a colourful paper streamer, decorate and take home a "sasa" bamboo branch, and enjoy bon odori dancing and taiko drumming. Loads of family-friendly activities and games, including water balloons, fishing, ring toss and more! Enjoy cotton candy, shaved ice, hotdogs, takoyaki and more!
Come dressed in jinbei or yukata, or get dressed up in one at Nikkei Centre.
Yukata/obi are also available for sale .
Recommended for families with children aged 3-10. All children must be accompanied by an adult.
Tickets & information: 604.777.7000 or info(at)nikkeiplace.org
*Space is limited. Advance ticket purchase recommended. *

NNMCC . Last modified Jun 26, 2014 11:33 a.m.
---