Tuna Canyon Detention Station Multicultural Panel
San Fernando Valley Japanese American Community Center
12953 Branford Street
Pacoima, California, 91331
United States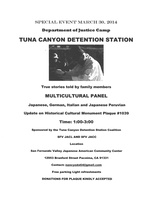 Attachments
On March 30th, 2014, the San Fernando Valley Japanese American Community Center will host a special event:
Department of Justice Camp TUNA CANYON DETENTION STATION
Multicultural Panel
Japanese, German, Italian, and Japanese Peruvian
Update on Historical Cultural Monument Plaque #1039
Sponsored by the Tuna Canyon Detention Station Coalition, San Fernando Valley Japanese American Citizens League, and San Fernando Vally Japanese American Community Center.
Time: 1pm-3pm.
For more info, contact: nancyoda64@gmail.com
Free parking and Light Refreshments.
Donations For Plaque Kindly Accepted.

k2h . Last modified Feb 25, 2014 9:49 a.m.
---