Opening Reception Japanese American Internment Project: if they came for me today, East Coast Stories
Japanese American Association of New York, Inc.
15 West 44th Street, 11th Floor
New York, New York, 10036
United States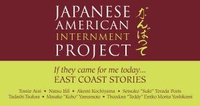 Description from The Interchurch website :
In commemoration of the 25th anniversary of the Civil Liberties Act of 1988, which granted redress and reparations to Japanese Americans interned during World War II, Community Works NYC explores the impact of civil injustice and its resonance over generations in two related exhibitions. Through photographic portraits and reminiscences, "If They Came for Me Today…East Coast Stories" explores the lives of seven men and women from New York who were interned or impacted by the internment of Japanese American citizens during World War II. This living history exhibit, developed with NYC students who conducted the interviews, teaches us the importance of civic engagement, emphasizes that historical events are always linked to powerful personal stories and demonstrates the longstanding effects of civil injustice. The seven profiled are: Tomie Arai, Natsu Ifill, Akemi Kochiyama, Suki Terada Ports, Tadashi Tsufura, Koho Yamamoto and Theodora Yoshikami.
For more information, visit the Japanese American Association of New York, Inc. website .

APA_Institute . Last modified Feb 04, 2014 1:27 p.m.
---