Commemoration of the 130th Anniversary of Little Tokyo 1884-2014
California
United States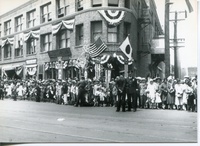 Throughout 2014, the Little Tokyo Historical Society (LTHS) will observe a year-long celebration of the 130th anniversary of Little Tokyo, which had its origin in 1884 with the establishment of a humble restaurant, Kame, at 340 East First Street.
To celebrate the rich historic and cultural heritage and legacy of historic Little Tokyo, we invite organizations and individuals who are passionately interested in the past, present and future Little Tokyo to co-partner in developing anniversary presentations, oral histories, community photo share activity, exhibitions, and intergenerational activities. Planning meetings are the 1st Saturday of the month at 11:30 AM-12:30 PM and are open to the public.
The commemorative project was introduced at LTHS' table at the "Oshogatsu in Little Tokyo" event on January 1 at Weller Court. The official kick-off will be tied to the 2014 LTHS Shinnenkai New Year's luncheon on Saturday, February 1st.
For more information about the 130th Little Tokyo birthday observance including volunteering, membership, and donating, please visit www.littletokyohs.org or contact Michael Okamura, President, at littletokyohs@gmail.com or 626-840-8409 .

lthistory . Last modified Jan 25, 2014 8:12 p.m.
---