Japan Society Family Program: Cosmic Fun Art Cart
Japan Society
333 East 47th Street
New York, New York, 10017
United States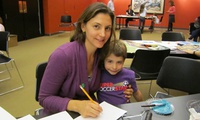 From the Japan Society website:
The magic of stars in the night sky and questions about the beginning of the world fascinate artists as well as children. Join an interactive, family-friendly tour of her retrospective exhibition, Rebirth: Recent Works by Mariko Mori with a Japan Society Educator and a hands-on workshop with artist Petra Pankow to make an aerial display of stars and planets and a bound moon journal.
Recommended for children 8-12 years old.

TICKETS:
$12/$5 Japan Society members; children ages 2 or under free. Corporate and individual member families may purchase tickets at the discounted price.

APA_Institute . Last modified Dec 03, 2013 8:35 a.m.
---