Japanese Martial Arts
Japan Society
333 East 47th Street
New York, New York, 10017
United States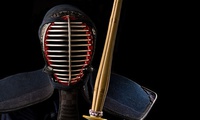 From the Japan Society website:
The Japanese samurai were known for their ferociousness in battle and lethal swordsmanship. Dr. David A. Hall, author of Encyclopedia of Japanese Martial Arts, discusses samurai training methods and a number of martial arts schools that have preserved these practices until the present day. Onstage demonstrations by Dr. Hall and a number of local martial arts groups bring the talk to life and educate the audience on the variety of Japanese martial arts that exist.

Demonstrating groups include:
Ken-Zen Institute
Kyokushin Karate New York
New York Budokai
New York City Kendo Club
Sword Class NYC

TICKETS
$12/$8 Japan Society members, seniors & students*
*ticket price includes a post-event wine reception

APA_Institute . Last modified Dec 03, 2013 8:26 a.m.
---