Gluten-Free Sweets with a Japanese Twist
Japan Society
333 East 47th Street
New York, New York, 10017
United States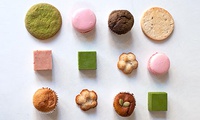 From the Japan Society website:
While gluten-free cooking has just recently become popular, many traditional Japanese sweets are gluten-free. Luane Kohnke, gluten-free cookbook author, discusses what gluten is, why people are increasingly turning to gluten-free foods, and her own tips and tricks for gluten-free baking. Nicole Bermensolo, founder of the high-end Japanese confectionary company Kyotofu, will demonstrate the use of traditional Japanese ingredients in delicious baked goods. Her onstage demonstration will include miso brownies, green tea cupcakes, and yuzu muffins, which will also be available to taste during the post-event book signing and tasting reception.

TICKETS:
$16/$12 Japan Society members, seniors & students*
*ticket price includes post-event reception

To purchase tickets from the Japan Society website, click here.

APA_Institute . Last modified Dec 03, 2013 8:05 a.m.
---