ai kuwabara trio project U.S. Tour 2013 - Anchorage concert
Fine Arts Building, University of Alaska Anchorage
Alumni Drive
Anchorage, Alaska, 99508
United States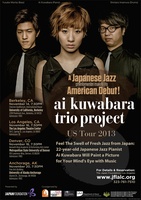 Jazz from Japan! Instrumental jazz phenomenon ai kuwabara trio project makes their American debut. Led by 22-year-old piano prodigy Ai Kuwabara, this band has stolen the attention of the entire jazz community in Japan. The band's music is urban contemporary jazz with a strong, experimental feel and a flavor of funk, showing a regard for a wide-range of musical styles and featuring elements of progressive rock and even pop.
After only two albums and two years, the group's originality and fresh sound earned them a spot at the huge Tokyo Jazz Festival 2013, headlined this year by Tony Bennett himself. Japan Times music critic Sean Smith named their second album THE SIXTH SENSE one of his albums of the year.
Please RSVP to guarantee your seat. Walk-ins also welcome.
To RSVP click here .
For more information, visit: www.jflalc.org/ai-kuwabara-trio-project-US-Tour.html

JapanFoundationLA . Last modified Oct 29, 2013 12:41 p.m.
---