ICU Exchange Students Welcome Lunch
Mo-Chica Peruvian Restaurant
514 W 7th St
Los Angeles, California, 90014
United States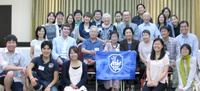 ICU Southern California Alumni Club is holding a luncheon to welcome new exchange students from ICU who just started their study abroad. We wish many ICU and ICU HS alumni, friends and family will get together to give support to those new students.
Fee is $25.00 per person which includes support for the students.
Mo-Chica's Chef Ricardo Zarate is a rising star in the culinary world
and celebrated with many awards including Food & Wine Magazine's "Best
New Chef, People's Choice." Let's sample his dishes while mingling
with the new students.

Please RSVP in advance to masako@snolayogurt.com and we will send you more details.
The attached photo is from last year's event with the exchange students.

ICU . Last modified Sep 28, 2013 4:42 p.m.
---