HYPER JAPAN 2013
Earls Court Two
Lillie Road, London, Greater London SW5 9TA
England
United Kingdom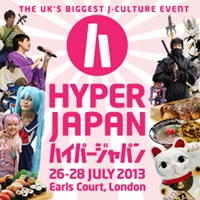 "HYPER JAPAN is the UK's biggest celebration of traditional and modern Japanese culture and cuisine. HYPER JAPAN is a unique event that offers something for both the dedicated Japanophile and those not so familiar with Japanese or Asian culture. It's fun, colourful, diverse, and a great way to discover new and interesting trends."
For more information, visit:
http://www.uk.emb-japan.go.jp/japanuk150/events/andmore/Hyper_Japan2013.html

SKH . Last modified Jul 17, 2013 4:12 p.m.
---