Film Screening: Searchlight Serenade
Japanese American National Museum
100 North Central Avenue
Los Angeles, California, 90012
United States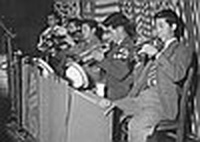 Searchlight Serenade focuses on the proliferation of big bands in detention centers and camps throughout the West during World War II. Nisei quickly organized dance bands when they were removed to the fairgrounds and racetracks that were converted into temporary detention centers, and re-organized them once they were moved to the more permanent detention camps in desolate areas of the country. In all, twenty bands were created and thrived in 13 detention centers and camps from 1942 to 1945.
Swing music played a vital role as escape, as therapy, and as a connection to the outside American world. Playing and appreciating such a totally American art form was an aspect of their American identity that could not be denied within the confines of the camps or the denial of their civil rights.
KEET-TV producers Claire Reynolds and Sam Greene collaborated with artist Amy Uyeki, to tell the stories of former internees who played music in the camps through interviews and archival footage interspersed with segments of Ms. Uyeki's twelve-minute animated short. Created from original woodcuts and drawings, the animation is inspired by actual events and accounts of some of the musicians and singers she interviewed.
With help from advisor and musician, George Yoshida, the Searchlight team was able to locate former bandmembers in Los Angeles, the San Francisco Bay Area, Yuba City and Portland. The interviews with 9 musicians and singers from the camps, many of whom are still performing, form the basis of this moving documentary, and their poignant stories and ebullient spirits remind viewers that art and music can be an incredible force of healing and positive energy in a difficult environment.
*Advanced reservations are recommended for most programs as seating/space may be limited. Some programs may have separate reservation contacts. Please check program description. When making a reservation, email rsvp@janm.org or call 213.625.0414 at least 48 hours prior to the event. Include the name, date, and time of the program, as well as your name and the total in your party.

JANM . Last modified Jun 26, 2013 11:54 a.m.
---