Matsuri! Japanese Arts Festival
Juilliard Park
227 Santa Rosa Ave.
Santa Rosa, California, 95404
United States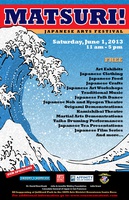 Enjoy the showcase of Japanese arts! Taiko drumming, traditional Japanese dancing, singing, theatrical performance, martial arts demonstrations, ceramic, wood carving, clothing, prints, antiques, tea ceremonies, origami, great food, prizes and more!

For more information, contact Mario Uribe mail@mariouribe.net
or visit www.sonomamatsuri.com
707-303-5925

mztn . Last modified Apr 11, 2013 2:40 p.m.
---