Atlanta Braves: Asian-America Heritage Day
Turner Field
755 Hank Aaron Dr SE
Atlanta, Georgia, 30315
United States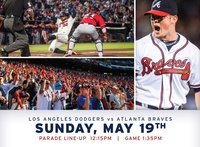 Join the Atlanta Braves as they host the 2nd annual Asian American Heritage Day at Turner Field. Participate in our pregame parade and bring a flag or sign to support your heritage. Be in line for the parade no later than 12:15 pm. Line up starts at the Hank Aaron Ramp across from Section 125/129.
Your ticket package includes a seat in the Outfield and a Braves 1984 replica hat. Hat redemption located at Fan Central across from Section 132 during the game.

JASGintern . Last modified May 08, 2013 11:48 a.m.
---