San Jose Taiko: Rhythm Journey Tour in Anchorage, AK
Atwood Concert Hall, Alaska Center for the Performing Arts
329 F Street
Anchorage, Alaska, 99501
United States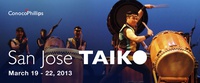 SCHOOL PERFORMANCES
Recommended for grades K-12
March, 19-21, 2013
10:15 AM & 12 Noon
March 22, 2013
10:30 AM
PUBLIC PERFORMANCES
Great for ages 5 and up
Friday, March 22, 2013
7:30 PM – 90 Minute Show
All shows in the Atwood Concert Hall.
Experience the rhythmic heartbeat and spiritual essence of Japan and its people as San Jose Taiko thrills the audience with the powerful, spellbinding and propulsive sounds of the Taiko drums. Inspired by traditional Japanese drumming and founded in 1973, San Jose Taiko brings people together, magically dissolving the separation between drummer and audience. In 1987, San Jose Taiko became one of the first American Taiko ensembles invited to tour Japan. Audience members will be drawn to the empowering sounds of the Taiko and inspired by the continued possibilities, renewal and transformation that the rhythm and beat invokes.
http://www.akjt.org/artist_TAIKO.htm
Buy Tickets: http://alaskapac.centertix.net/eventperformances.asp?evt=284


San_Jose_Taiko . Last modified Jun 20, 2012 11:18 a.m.
---