Yasujiro Ozu Double Feature: A Hen in the Wind and Equinox Flower at 92YTribeca
92YTribeca Screening Room
200 Hudson St
New York, New York
United States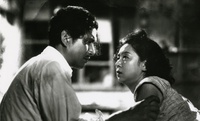 Price: from $12.00
6 pm
A Hen in the Wind
Set in Tokyo in the immediate aftermath of World War II, A Hen in the Wind finds young mother Tokiko trying to make ends meet as she tries to care for her young son Hiroshi. When the boy falls ill, she turns to prostitution, a desperate act which threatens to destroy her marriage once her husband Shuichi's return from war and the secret is revealed. Following other wartime and postwar films like There Was a Father and Record of a Tenement Gentleman , this is a surprisingly trenchant work from a filmmaker better known for his later, more serene middle-class domestic dramas, mixing Ozu's melodramas of devotion and reconciliation with a devastating critique of US-occupied Japan.

Director: Yasujiro Ozu. 84 mins. 1948. 35mm.
7:15 pm
Equinox Flower
Ozu's first film in color, Equinox Flower offers a variation on the director's postwar dramas of marriage and domesticity among the middle class with this comic satire of changing traditions and gender roles. Having developed the theme of arranging a young daughter's marriage in earlier masterpieces like Late Spring and Early Summer , and refined and simplified his style throughout the films of the 1950s, Ozu here deploys a vivid color palette, precise camera angles, and typically idiosyncratic mise-en-scene to convey a story about subtle clashes of old and new—with much subversion of patriarchal authority and bar-hopping.

Director: Yasujiro Ozu. 118 mins. 1958. 35mm.

Part of the series Not Coming to a Theater Near You , presented by the film blog of the same name.

As an added bonus, The Criterion Collection has generously donated two Ozu box sets which we will give away to some lucky audience members!

Tickets: $12, Film Club Member : $8.

APA_Institute . Last modified Mar 15, 2013 8:33 a.m.
---