Tohoku Insights 2013: Live Conversations with Japan
Japanese American Museum of San Jose
535 N. Fifth St.
San Jose, California, 95112
United States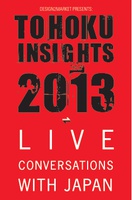 THIS PROGRAM WILL BE STREAMED LIVE at http://coreography.com/s/sj

"Tohoku Insights 2013: Live Conversations with Japan", is an opportunity to get a first hand view of what is going on today in the ongoing efforts to rebuild the region devastated two years ago. This program is about learning, sharing, and supporting those people who are making a positive difference in their communities.
We invite you to join and share your experiences and learn the many different opportunities to help in the ongoing rebuild and relief efforts.
For those who wish to participate at JAMsj, please note that seating is limited. RSVP by calling (408) 294-3138 or email to: PublicPrograms@JAMsj.org to reserve your spot today.
For more information contact Kathy at (408) 298-4303.

Komo . Last modified Mar 03, 2013 8:54 a.m.
---