BOOKS & CONVERSATIONS: "Lament in the Night" by Shoson Nagahara
Japanese American National Museum
100 N Central Ave
Los Angeles, California, 90012
United States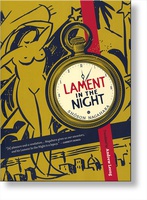 In 1925, writer Shōson Nagahara serialized tales of Japanese immigrants in the Rafu Shimpo. For the first time, Kaya Press has published an English translation of Nagahara's stories about Little Tokyo's down-and-out denizens. In Lament in the Night, we meet itinerant day laborer Sazuko Ishikawa as he prowls the back alleys and bathhouses of Los Angeles looking for a meal or a job, or just someone to hold onto; and Osato, a mother struggling to survive in the world of hostess bars and nightclubs after being abandoned by her gambling-addicted husband.
Described as, "a heartrending gift from the past" by novelist Karen Tei Yamashita, this book combines the gritty sensitivity of naturalistic noir, with with elements of Japanese traditional storytelling and epistolary techniques. What results is a gripping tale of character and culture, morality and corruption, set against the complex background of Los Angeles' multiethnic and class segregated neighborhoods.
Join us for a discussion with Los Angeles Times Book Critic David Ulin and translator Andrew Leong exploring Nagahara's influences, the historical context of 1920s Little Tokyo, and what this major literary rediscovery means for American literature.
Along with the conversation, the afternoon will feature lively readings by special guests from the Japanese American community, and a historical walk through Little Tokyo that follows in the footsteps of Nagahara's characters, with a reception to follow.
This event is sponsored by the Huntington-USC Institute on California and the West and the USC Master of Professional Writing Program.

This event is free! Reservations recommended to rsvp@janm.org or 213.625.0414 at least 48 hours prior. www.janm.org

Purchase the book from the Museum Store >>

JANM . Last modified Feb 21, 2013 9:14 a.m.
---