San Jose Taiko: Rhythm Journey Tour in Elgin, IL
Elgin Community College Arts Center
1700 Spartan Drive
Elgin, Illinois, 60123
United States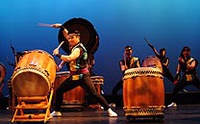 Sunday, November 18 at 4 p.m.
The Blizzard Theatre
It's impossible to describe the awe-inspiring energy and astonishing athleticism of a taiko drumming performance. Experience San Jose Taiko (SJT) and you'll see what we mean. SJT mesmerizes audiences with the powerful, spellbinding sounds of the taiko, a traditional Japanese drum. SJT explores new dimensions of taiko by combining traditional Japanese rhythms with a host of other styles, including African, Brazilian, Filipino, Latin, and jazz.
Tickets: $35 purchase online

San_Jose_Taiko . Last modified Aug 09, 2012 10:51 a.m.
---