Cosmic Coco with Oorutaichi
Japan Society
333 East 47th Street (between First and Second Avenues)
Manhattan, NY, New York, 10017
United States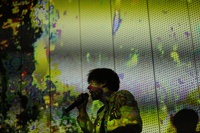 Japan Society hosts a live DJ set, performance, and site-specific video installation from internationally acclaimed electronic pop upstart Oorutaichi, as he plays selections from his newest album Cosmic Cocoand more on Friday, November 16.
As Japan's unparalleled vocalist and multi-track sound mixmaster, Oorutaichi propels audiences into orbit, as his colorful yet experimental pop music brings crowds to their feet. Time Out Tokyo praises Oorutaichi's live performance as, "A chain of amusement . . . Amazingly great." Dubbed "imaginary electronic folklore" by Oorutaichi, his music weaves fanciful language into never-heard-before beats and loops.
This exhilarating event features a celestial-inspired, multi-media projection installation by Oorutaichi and his creative team, transforming Japan Society's foyer into a revolving nightclub.
"Oorutaichi's kinetic performance and futuristic visuals demand a free environment to dance," says Japan Society's Artistic Director Yoko Shioka. "Rather than force that energy into an auditorium, we are opening up our lobby and encouraging the audience to express themselves energetically."
An open bar will be available throughout the show, offering beer and wine at only $4 per glass. Concertgoers wearing futuristic space costumes will receive a complimentary drink.
Local sensation DJ Aki opens and concludes the night with contemporary Japanese and American rock, pop and hip-hop.
Limited space is available for this one-time-only dance party; advance ticket purchase is strongly encouraged. To purchase tickets, go to www.japansociety.org or call (212) 715-1258.

APA_Institute . Last modified Nov 16, 2012 11:26 a.m.
---