FILM SCREENING: "Eclair: For Our Future, For Children"
Japanese American National Museum
Tateuchi Democracy Forum
111 N. Central Ave
Los Angeles, California, 90012
United States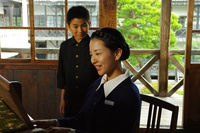 FREE ADMISSION!
In 1943, the dark shadow of war is sneaking up and about to change everything. After losing his parents at a very early age, Akio lives his life in and out of the orphanage and reformatory. He encounters people like Detective Toyama who saves him from hunger by giving him a sweet pastry, the White Satan at the reformatory, his foster mother Fusano, Tomiko from the cinema, and people from the touring company.
Throughout this difficult time, the only thing that keeps him going is "Sweets & Girls," the song that Yoko, a teacher at the orphanage, sang to him. No matter what happens to him, thinking about sweets and singing the song somehow gives him the power to live…
Director: Akio Kondo. Cast: Hajime Yoshii, Saori, Ayumi Ishida
Part of the Tateuchi Public Program Series at the Japanese American National Museum. Program co-organized by the Japan Foundation.
Photo: (c)"eclair" Production Committee

JANM . Last modified Oct 19, 2012 6:45 p.m.
---